Stitch your name on your golf accessories to show your personality.
Logo embroidery is also available on Craftsman.
CJEFFS12 Review of Craftsman Golf Headcovers
I would like to thank Craftsman Golf for sending me the full set of metal wood headcovers, and I also have a blade putter cover that I will include in this review.  I really like collecting headcovers, and I was already familiar with them, so when they reached out to test these and leave a review it was a no brainer. I will be reviewing the Blue White Leather with Red Stripes Driver, Fairway, and Hybrid headcovers, and the Black leather Lucky Clover Putter Cover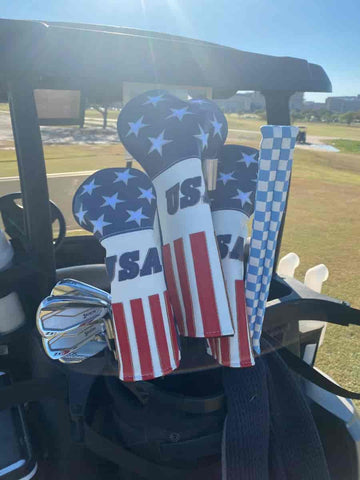 Aesthetics (5/5 Stars) 
Caftsman have quite a few designs of all varieties, but I love the Stars n' Stripes, and the company logo on the back really pops on the solid white leather.  These really have good bag appeal. I know I sound like a broken record, but I really like the leather of the headcovers.