Stitch your name on your golf accessories to show your personality.
Logo embroidery is also available on Craftsman.
Wisco Golf Addict Craftsman Golf Review
Wisco Golf Addict Craftsman Golf Review
"A solid product at a great price. I love the headcovers that I was able to test and have gotten a lot of compliments out on the course. I think Craftsman Golf has provided a great way to update your bag for less than the cost of a round."  – Review by Troy Giljohann from WiscoGolfAddict, the Top Golf Content Creators.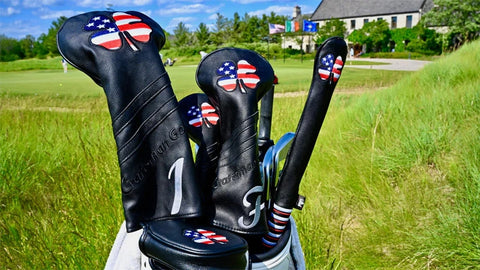 I have found myself in quite the predicament lately, thinking I need to carry around more than 14 clubs… Only for the opportunity to display more Craftsman headcovers on my bag.
I came across Craftsman when I was searching for American-themed head covers and was happy I found them. I was blown away with their selection and the amazing pricing featured on their website.
Options Options Options
The Craftsman Golf headcover site features every size, shape and colored headcover you could possibly want, with material types that range from leather to plush and everything in between. The most impressive selection, in my opinion, is the matching sets. While many companies offer unique headcovers, it's not often they feature such a wide array of full sets.