Stitch your name on your golf accessories to show your personality.
Logo embroidery is also available on Craftsman.
Craftsman Golf Cart Charger Review
A golf cart charger is in high demand throughout the course of its life.
If you own an older electric golf cart, your charger has been put under an electrical load for literally thousands of hours. During that time, it's been subjected to a healthy dose of heat, dirt, dust and maybe even the occasional mishap.
All that to say: it's inevitable that your charger will stop working at some point.
So what should you do when your golf cart battery charger needs to be replaced?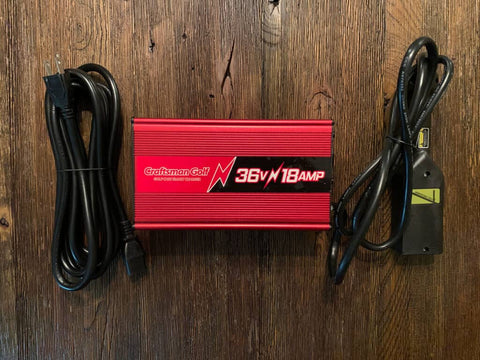 Craftsman Golf® EZGO 36V Charger Review
A friend of mine has a 1999 EZ-GO TXT with a crazy lift kit and the original golf cart charger. That charger was 23 years old.
Side note: If you don't know the make and model of your EZ-GO, this website will help.
Finding charger parts or a used replacement for his EZGO cart didn't seem like the best move, so we opted for a new EZGO golf cart charger from Craftsman Golf®.
At the time, I couldn't find any reviews for their 36 volt golf cart charger, so I thought I would write one myself.